SSUT Co., Ltd. (SSUT) was founded on March 19, 2010 and is considered to be Small Power Producer (SPP) under firm contract for cogeneration system from Electricity Generating Authority of Thailand (EGAT). In the year 2010, according to the resolution of Energy Regulatory Commission (ERC) and Energy Policy and Planning Office, SSUT was selected to establish 2 projects which are BangPoo Cogeneration Power Plant Block 1 and BangPoo Cogeneration Power Plant Block 2 located on approximately 17 Rai land within BangPoo Industrial Estate, New Bangpoo district, Muang Samutprakarn District, Samutprakan.
SSUT is a partnership between investors as follow;
(Com-Link) was established in 1988. The company provided and managed fiber optic cable supporting the telecommunications state enterprises and leading business corporations. In 1990, Com-Link was assigned to design and manage the fiber optic cable along railroads together with TOT Public Company Limited (TOT) and State Railway of Thailand (SRT). It was awarded 200 million US Dollars project for 20-year concession. Com-Link installed 3,000 kilometers of fiber optic cable network to support the telecommunications signals of TOT and SRT.
At the present, Com-Link is a Holding Company which owns shares of other companies, for example two 5 stars hotels in Beijing, China, fourteen branches of Institute of Commerce and Technology around Thailand, Financial Intermediaries, Ethanol Business, etc.
(TAC) consists of proficient and experienced shareholders, each of which is expertised in construction and operation of the power plants, including;
Krungthon Energy Service Co., Ltd.
(Krungthon) is a company with expertise in energy and real estate business. Current and previous projects completed by Krungthon derived from various field of organizations, such as; Department of Highways, Royal Irrigation Department, Expressway Authority of Thailand, Airport of Thailand, Metropolitan Waterworks Authority and Thai Airways.
Chubu Electric Power (Thailand) SPP B.V. Co., Ltd.,
established in the year 2005, is an affiliate of Chubu Electric Power Company Inc. which is one of Japan's largest power plant companies in production capacity, electricity sales, overall sales, and total assets. Chubu was first established in 1951 to provide electricity to 5 prefectures in the Chubu region, Japan. Chubu's headquarters are located in Nagoya with 6 branches across Japan and 4 oversea affiliates in; Washington, D.C., USA, London, United Kingdom, Doha, Qatar and Bangkok, Thailand. Chubu is on track to become market leader of the international power industry business. In overseas market aspect, Chubu has primarily developed Independent Power Producer (IPP) enterprises, which mostly are gas-fired cogeneration power plants.
Chubu Electric Power (Thailand) Co., Ltd. has established an office in Bangkok to manage the operation and maintenance of the company's cogeneration power plant, Ratchaburi Electricity Generating Holding PCL. and rice husk fueled power plant, A.T. Biopower Co., Ltd. Thus, Chubu is recognized as an experienced expert in operating international cogeneration gas-fired power plants.
APEX Energy Solution Co., Ltd.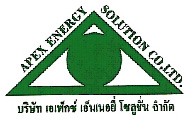 (APEX) was found in the year 2006 as a part of APEX Energy Group which is the developer of Independent Power Producer by using alternative energy as fuel. APEX Energy Group was registered in Malaysia where its headquarter is located. APEX Thailand has developed 20 MW-Power Plant while the main fuel is rice husk for A.T. Biopower Co., Ltd.
In 2008, APEX has set up Nature's Energy Solution, Singapore (NESS) as a holding company for oversea investments on alternative energy power plants, including; biomass, bio gas in South East Asia region. In 2009, ORIX Corporation, a leading group for Leasing Business in Japan and as well registered with the Tokyo Stock Exchange (TSE), became business partners with APEX in order to expand the business of NESS. At present, NESS has invested in a 9.9 MW biomass palm kernel shell energy power plant project, a 1.4 MW bio gas project in Surat Thani, Thailand and 2 blocks of 11.5 MW biomass power plants in Malaysia, which use palm kernel shell energy as well.
Thassiri Co., Ltd. (Thassiri)
was established on January 31, 2011 to operate Cogeneration Power Plant in BangPoo Industrial Estate.